What is included in this course?

What makes this course special?

Glowing & Growing was designed to offer inspiration and insight to all mamas-- whether you're pregnant with your first or you're already a mama to many. Our engaging, thought provoking content encourages you to explore your beliefs, get in touch with your innate power, and honor your own personal journey.
We recognize that each woman experiences pregnancy and birth in a different way, and we created this course to celebrate individuality. The open ended journaling prompts, creative projects, and thought provoking activities were designed to help you get in touch with your own inner guidance and wisdom. The information and educational aspects of this course have been created by an experienced doula with a deep respect for all birthing experiences.

Self paced- so you can begin at any point during your pregnancy and move through the content at your own speed
Honors the whole being. Emotional, spiritual, and physical preparation for the adventure ahead.
Fun and creative- Engaging projects to help you relax, enjoy, and tap into your creative power.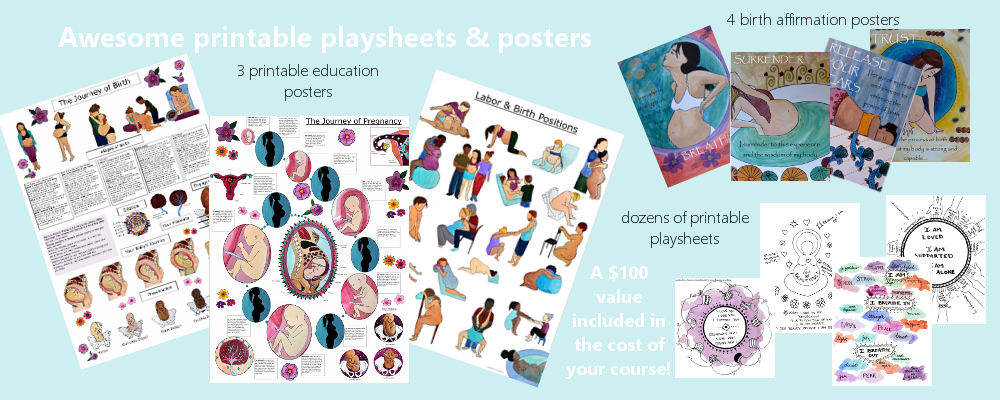 More than 20 Printable Playsheets + Posters
Dozens of inspiring worksheets, creative coloring pages, and informative posters on pregnancy and birth
Guided Audio Meditation + Prenatal Yoga Class
3 guided audio meditations to help you prepare for birth and a gentle prenatal yoga sequence to practice throughout your pregnancy
Research-based information + soul wisdom
Experienced Doula Stepha Lawson shares practical tips + tools, science-based information, and deep soul wisdom
Glowing & Growing is not your typical childbirth preparation class. Rather than simply presenting you with facts and information, we've created an engaging, empowering online experience to help you feel prepared and excited about the adventure of pregnancy and birth.
We recognize that giving birth is more than a physical act-- the transition  to motherhood is one of life's most profound journeys and this course was designed to honor the beautiful intensity of that transformation.
This course is not a lesson in how to birth, but rather a guide to help you tap into your inner strength and your body's innate wisdom so that you can navigate your birthing journey with grace and joy. Glowing & Growing will help you get clear about your preferences and what kind of birth you desire, but will also prepare you to navigate any circumstance that unfolds. We recognize that birth is a magical, powerful, often an unpredictable adventure, and we believe that embracing the wild nature of this experience can better prepare us to for the beautiful ride of motherhood.